The Fertility Center of California Mentorship Program with Dr. Martin Bastuba
Posted on June 1, 2016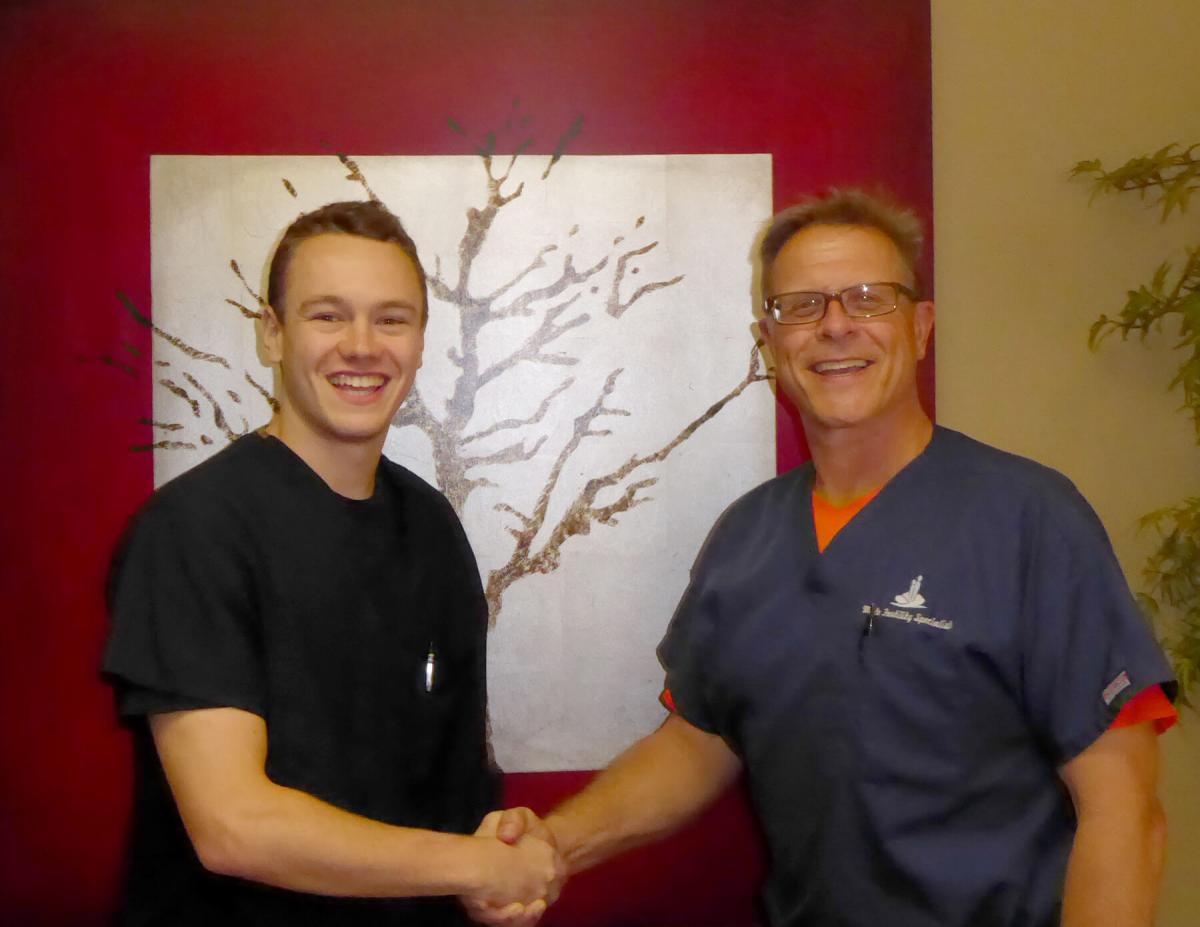 Dr. Martin Bastuba is the Tissue Bank Scientific Director and President of the Fertility Center of California (FCC). His is one of only 2% of board-certified urologists in the U.S. who specializes in male fertility treatment. Since 1993, Dr. Bastuba has helped countless couples and individuals build their families through infertility treatment and third-party reproduction, specifically sperm donation.
Throughout this time, Dr. Bastuba has mentored a number of FCC staff members, including McQuade Brubaker and Jesse Quintana Lara. Both McQuade and Jesse were kind enough to take time out of their day to talk about their role at the Fertility Center of California and how Dr. Bastuba's mentorship influenced their current and future career goals. We invite you to read McQuade and Jesse's interviews below.
McQuade Brubaker, Andrology Laboratory Technician at FCC
What are your responsibilities?
Processing laboratory tests such as the cryopreservation of reproductive materials, sperm washes for IUI, complete semen analysis, and anti-sperm antibody testing. I also coordinate the shipping of embryos and assist in surgical procedures.
How has Dr. Bastuba helped you grow and develop during your time with FCC or MFS?
I met Dr. B when I was volunteering across the street in a hospital. He inquired as to why I was volunteering and I explained that I was in college and I thought I had wanted to become a physical therapist, but after volunteering in that field I started to think about becoming a PA or MD. He then offered to let me come shadow him and/or his PA at the time. I showed up then next day and he was excited I took him up on his offer, and he showed me around his office and what type of patients he deals with regularly.
How has working with Dr. Bastuba changed your career path?
When I met Dr. B I wasn't sure what I wanted to do carrier wise. I basically had just had a panic attack because I was about to graduate college with a degree in a field that I wasn't fully interested in anymore. Seeing what he did made me confident in wanting pursue a carrier as medical professional. He also showed me a very specific and specialized field, being reproductive medicine, that I have found a lot of passion for. I don't know if I would have ever thought about it as a field to study without him, and now am strongly considering it as what I want to work in for my carrier.
Dr. B wrote my letters of recommendation for PA school, twice. I applied for PA school while still finishing my undergrad when I had still first met him, and he wrote me a great letter. I didn't get into a program that first time, and Dr. B was extremely supportive of me and offered any help or advice he could give me. When I re-applied he wrote another outstanding letter of recommendation that he put substantial time and effort into. I now have been offered a position into my top school of choice, and will be attending Western University of Health Sciences PA program in August. I know I wouldn't be in this position without the support Dr. B gave me for the past couple of years, and the opportunities he gave me to work in his clinic.
Jesus (Jesse) M. Quintana Lara, Medical assistant at FCC and the Male Fertility Specialists (MFS)
What are your responsibilities?
I am responsible for scheduling, blood draws, internal and external client support, front desk general duties, the collection appropriate forms and data for shipments, room pt's, billing, and our long term storage project.
How has Dr. Bastuba helped you grow and develop during your time with FCC or MFS?
Dr. Bastuba helped me by taking me under his wing, a wing I like to call FCC. My position at FCC was my first Medical Assistant role. I was fresh out of school when I started, and the difficulties of finding a position was difficult, especially in the medical field.
How has working with Dr. Bastuba changed your career path?
Working at FCC has opened my eyes to the vast opportunities and growth potential in the medical field. My childhood was not the best. To completely fully comprehend, you must take my shoes and walk in them. I was raised in South Central Los Angeles. Statistically I had no future, I had no career, survival and staying alive and fed were my concerns. My perception of life was different from what you or my co-worker would consider the norm. I was an office administrator from age 19 and kept that title until about four years or so ago, when I move to San Diego from LA and impulsively registered to become a MA.
Because of that impulse I crossed paths with Dr. Bastuba. I was hired and with time saw the growth potential of this position. I am dreaming big, and I returned to school to get my GED; which I completed in just two months. This year, I am now enrolled to start college over the summer. Dr. Bastuba opened up my eyes to a career, and now I have one and am growing.